SHOW HIGHLIGHTS
The Stars Of Beatlemania production spans the entire gamut of Beatle's groundbreaking career. Opening the show with a recreation of the Beatles legendary performance on the Ed Sullivan Show in 1964, the group is dressed in the black suits and Beatle boots the Beatles wore. To accurately and authentically recreate the sights as well as the sounds of the Four Lad From Liverpool, the band members play the original Gretch, Rickenbaker and Hofner guitars through the same model Vox amplifiers the Beatles played through. Early Beatle era songs include: I Want to Hold Your Hand, She Loves You, A Hard Day's Night, I Saw Her Standing There and Can't Buy Me Love.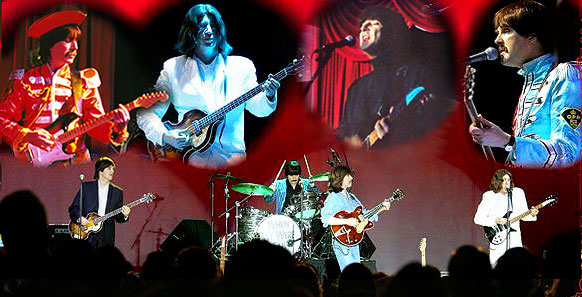 The Stars Of Beatlemania lead the audience down the long and winding road, from the innocence of the early 60's through the psychedelia of 1967. The band reappears on stage wearing exact replicas of costumes from the Sgt. Pepper period, performing such masterpieces as: Sgt. Pepper's Lonely Hearts Club Band, With a Little Help From My Friends, Hello Goodbye, Penny Lane and A Day In The Life.
The show climaxes with the band transporting the audience to the year 1969 and the final phase of the Beatle's remarkable career. Wearing the costumes from the famous Abbey Road album cover, The Stars Of Beatlemania perform such classics as Let It Be, Hey Jude, Something, Get Back, and Revolution.
The Stars Of Beatlemania's incredible recreation of the the magic of a live Beatles concert has been been thrilling concert goers worldwide for more than a decade.