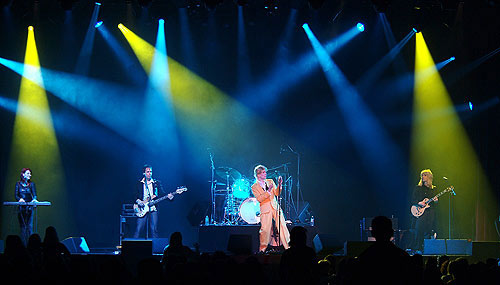 Photo by Dwight McCann
"David Bowie was a great friend to myself and my dad (Tony Mascia, David Bowie's body guard). It was great reliving all those songs, just like I remembered them growing up. David Brighton is dead on as David Bowie. I was totally impressed and in awe. Thanks for a wonderful evening..."
- Gloria DeMassi
"YOU MUST SEE DAVID BRIGHTON. HE WILL FREAKING CHANGE YOUR LIFE.."
- Holly Jet Ruben
"I have seen David perform and every show is amazing…every bit as good as seeing the real David Bowie. David is very much the showman…. It was amazing to see him work that stage... and the costumes are all top notch. This is the reason David Brighton and Space Oddity is one of the top tribute bands and travel all across the country to perform."
- James Michael, Concert photographer
"I was a bit cynical. But you blew my mind. You're amazing... every nuance. Even more impressive, you're lovely. To everyone. Thanks so much for a spectacular show. Loved it! Loved you!"
- Vicki Abelson
"If anyone hasn't seen one of David Brighton's shows, you have no idea what you are missing. His shows will blow you away..."
- Michael Robert S.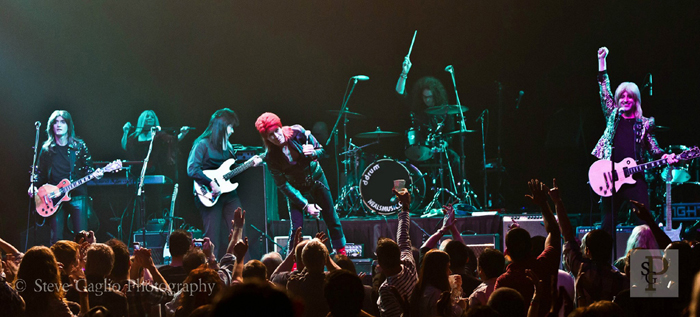 "I'm a BIG Bowie fan...saw the 1972 Santa Monica Ziggy shows and every tour since. As a life long Bowie fan it was great to see you guys....what a great show. You really blew my mind...amazing..."
- Craig Hammons.
"I was totally blown away by your truly incredible performance. The way you look, the sound of your voice, and the way you move...is just like the real David Bowie. I have seen some truly fantastic tribute bands....but I can honestly say that you are by far the best. No other tribute act can compare to you. I was completely mesmerized by your performance... you have the same charisma and intense appeal as your counterpart!"
- Natascha Novobilski
"David Brighton actually is the only chap out there capable of doing justice when simulating a force like Mr. Bowie. I know the business well, and what David does is pure top shelf impersonation. An unbelievable show good people, do yourself a favor, especially if you ever saw the man, see Mr. Brighton walk the walk!"
- Jackson Martin, professional musician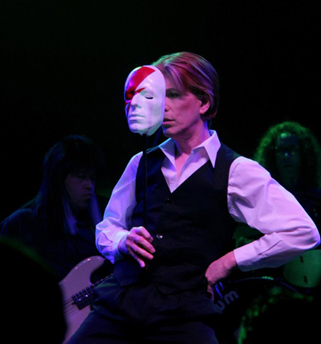 "As I listened to the intro to STATION TO STATION and David Brighton came out as the "Thin White Duke," I didn't realize until a minute had passed that my jaw had dropped open and I couldn't take my eyes off of him. I was blown away!! I just couldn't believe what I was seeing and hearing...WOW... Absolutely loved it!!"
- Michelle G., Phoenix Arizona

"David Brighton has Bowie, DOWN - sounds like him, looks like him, moves like him... The band is called Space Oddity... Being an old Bowie fan, I was very critical, but I'm totally taken... absolutely brilliant!"
- Joyce Hanako Bachmann

"You guys did such a great show! People in the crowd were reacting as if David Bowie was really playing for us. I'm still not sure that he wasn't! Superb!!!!"
-

Fred Herrman

"There are poor tributes out there, good tributes and great tributes.... then there is David Brighton - a different class."
- Bob Wyper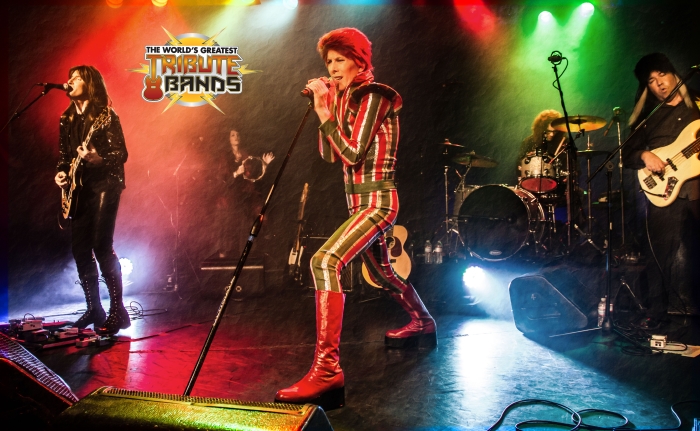 "My wife and I have been Bowie fans for 20+ years. When we came to Vegas for our anniversary, we saw you were playing at the Cannery Casino. I have to say that first we were in awe of how much you sounded like Bowie, then how flawless the band was and before you knew it, we actually forgot that we WEREN'T at a Bowie concert. One of the best things about your show is that you didn't just play the safe, popular Bowie, you actually played some awesome but less known tunes, which was greatly appreciated by the diehard fans... You took us on a great trip... We stayed up most of the night talking about what a great time we had. You and the Space Oddity band really made our trip to Vegas."
- Jeff and Melanie Virgo, Syracuse, NY
"I am a BIG fan of David Brighton's. David Bowie is a genius and only David Brighton can do him right."
- Kat Kramer, producer
"David Brighton isn't just the best David Bowie tribute artist, He's THE BEST TRIBUTE ARTIST! He's the standard all tribute artists aspire to... or should, ego aside..."
- RG Stewart
"THE BEST BOWIE IMPERSONATOR IN THE WORLD, BY A MILLION MILES!!!! The consummate Bowie, a Bowie fan's Bowie, the ultimate Bowie impersonator!!!"
- Marlene Stoller
"My wife and I recently had the great pleasure to see David perform.... What a remarkable and unbelievable show. Bowie was a staple of our music listening as we were dating, so David's performance brought back some truly memorable times. I can't say enough about the authenticity of your performance and the fun and joy it brought to our evening. Thank you for a tremendous show. Wishing you and the band continued success in the years to come."
- John & Karen Moyer
"Thanks for making my trip to Las Vegas an extremely memorable one! You guys blew all my expectations out of the water, truly fantastic! Spectacular attention to detail in every way. "Sweet Thing" was great... I never thought I'd ever see that done live in my life! You left me with the same great feeling like after seeing the Man himself in concert, which I never thought possible. You made this Bowie fan VERY happy."
- Jessica Anderson
"Brighton is the first guy I have seen who can actually pull off a good imitation of Bowie singing and performing. I cant even watch anyone else try."
- JackAL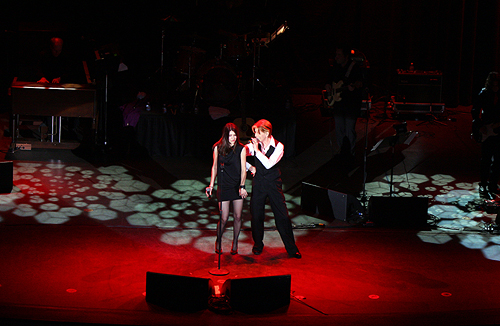 Brooke steps out from behind the keyboards for a duet with David in Texas
"I caught the show at Pala Casino and was blown away; no doubt that David Brighton is the unchallenged champion. The young lady (keyboardist) also displayed amazing talent. It was difficult to believe that a petite woman could produce such a powerful voice. Anyway, yours is an inspiring presentation..."
- George W. Magor
"I have to admit that I was not a real big Bowie fan until I saw your performance. You made me see just HOW big an influence David Bowie is in the music industry. I was taken with your performance and that of your band. Brooke is absolutely incredible! My wife and I have been back to see you many times and will continue to do so. I tell people that if they see your performance, they'll be hard pressed to know that they haven't seen Bowie. Thanks again!"
- Rod Drew
"I have been a huge Bowie fan since 1973. We first saw your band last summer. The band played one of my all time favorite Bowie songs, 1984/Dodo. It sounded note perfect. Before seeing the band perform, I was hesitant in believing someone could actually create a Bowie tribute - simply because Bowie's persona is so unique, and he created a new artistic presence with almost every album. You do an amazing job! Any Bowie fan would be blown away by your visual and musical accuracy. I have made it a point to share that with all of the Bowie fans I know. I look forward to seeing you again."
- Mike Capuano
"We both absolutely enjoyed the show to the utmost! You are amazing, and you have a fantastic band, superb playing. We saw the Serious Moonlight Tour over 20 yrs ago... and watching you tonight... WoW! Very Professional - just amazing - I must say, you and the young man who sang Under Pressure with you - omg.... amazing....Just keep doing what you're doing..."
- David & Francine Romesburg, Glendale Arizona
"Tonight David Brighton is David Bowie:
We traveled for 5 hours by road to Mackinaw City, Michigan to see The British Superstars Show: A tribute to British rock and pop icons David Bowie, Elton John and Rod Stewart. The show's star performance was without a doubt David Brighton's David Bowie impersonation. Having three Bowie-net members who have followed David Bowie's career for close to thirty five years meant that David Brighton had a hard audience in the three of us. If he had been bad we would have left. Frankly, a homage is nice but if you want to make a living being someone else, then you better be good at it.
He was.
David got the loudest reception from the audience. I heard shrills of delight and big yeah yeahs! David Brighton made an entrance dressed in a familiar Serious Moonlight yellow pastel suit. He opened with Let's Dance and ran through a list of songs from the Serious Moonlight set lists. David included a fine 12 string guitar performance of Space Oddity and a medley of Under Pressure and Heroes. We all thought David sang Golden Years very well. After all three tribute acts had had their go, the three of them ended the show singing together. David Brighton, dressed in a Rebel Rebel pirate costume with eye patch, sang a fine duet with Elton John rocking and rolling the house down with a good version of Suffragette City. The audience on cue raised their voices at the Wham Bam climax.
How would I describe David Brighton's performance? He has got the movements and the timing of the real David Bowie down... and so accurate... and a demeanor to match. David Brighton puts on a jolly good show and I would go again. Just hope its nearer to Detroit. David, you are a great Bowie, Love on ya!"
- Lindsay Crosby, Bowie-net
"David Brighton is the closest living thing in resemblance to Bowie... it's like you're seeing him. Not the Bowie of today, but the Bowie of 1972, '73, '74, '80, '83. Fans will be treated to those distinct Bowie personas. It's tantamount to seeing the real Bowie."
- Krystle Allen
"If you ever get the chance...see this band! David Brighton is truly amazing... Even the REAL DAVID BOWIE agrees that of all the "impersonators" this guy is the best."
- Layla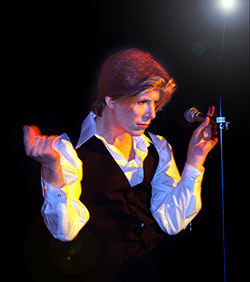 photo by Shari Calhoun
"We love you as we love Bowie. Everyone around us loved you as much as we did. Thank you so much."
- Seline Beauvoir
"I have never written to any other performer before, but I have to say that you guys deserve this exception. What my girlfriend, and I witnessed last night was nothing short of eye popping, jaw dropping, musical magic... Absolutely Brilliant !!!!!"
- Dale Sutton
"I just saw his show in Las Vegas, and was lucky enough to be in the front row. I've seen Bowie in concert many times and can say I was very impressed with the entire show, everybody had a great time..."
– Billy Doll
"I just saw (Space Oddity) last night in Indio, CA and I have to say that it was the best show ever! David Brighton was as spot on as Bowie himself. Thank you (Space Oddity) for letting me relive my seventeen year old self again! It was amazing and I can't wait to see you again!"
- Marlina Guzman
"I found the concert to be superb. I have watched Bowie live on three occasions and felt as good coming out after your show as I did watching the real thing..."
- Garry Lynch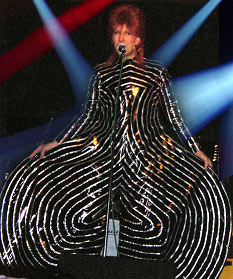 photo by: Melinda.Murphy
"You were bloody BRILLIANT on stage... we LOVED IT!!! Thanks for being our guardian angel!!!"
-Dollie Rocker and Penny Lane
"THANKS for another wonderful and fun show! Every time I see the band perform -- you've added something great and inspired..."
- Phyllis
"David Brighton is the Bowie appetizer! This weekend I had the pleasure of getting a really great BowieFix. Granted, it was in bloody California (I live on the East Coast) - but, it was well worth it. He CAN sing/dance/act like the Englishman! I was like...omg, it's just like it was in 1973...and then I remembered I wasn't born yet. I was well impressed. I highly recommend that ANY OF YOU needing a GREAT BowieFix, and you're ANYWHERE near this guy...go and see him. He's a blast. An excellent performer. And one hell of a nice guy. I love that you do this David... I can't say that enough. Thank you for the flashback! You do it, and you do it SOOO well! You sound amazing, you've got the character down. Now David CAN hire you as his stand-in. No one would ever know."
- Gwnavere, BowieNet
"David Bowie is my favorite rock and roll artist of all time. I'm impressed with your impression of his work. I love your wild costumes and how you incarnate so many Bowie personas in one show. I also LOVED that you played Station to Station (such a great song). Your band is fantastic and your "Mick Ronson" is great. I am very much looking forward to upcoming shows and bringing friends of mine who have never seen your band, to introduce them to a new experience."
-Elizabeth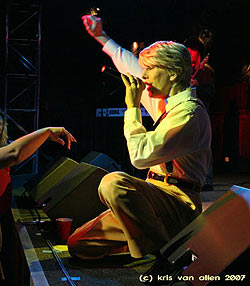 "I want to thank you for the great show in Edmonton. It was a real pleasure for my friends and I to finally see you perform. Your band sounds amazing, and you delivered not only very successful crowd pleaser, classic Bowie songs, but also, the more obscure choices (and the VERY obscure I Feel Free) which were very appreciated..."
- Richard Guerin
"Indeed ... the definitive doppelganger of our Thin White Duke. Glam on."
- Butch
"I've seen many, many Bowie Tribute Bands over the years and must say you beat them all hands down. What a great compliment to the Guvnor you are. Wishing you and the Band all the Best..."
- Jon
"It was a great show.... As a lifelong Bowie fan I was expecting a lot and was not disappointed. Thank you for doing such a great job and letting me fulfill my lifelong dream to see Ziggy on stage!"
- Cory
"My Queen tribute, Queen Nation, had the pleasure of playing with Space Oddity a few months back... These guys (and gal!) are as good as it gets. Period. And YES, we did the coolest version of Under Pressure together!!!!"
- Mike McManus (Guitarist for Queen Nation)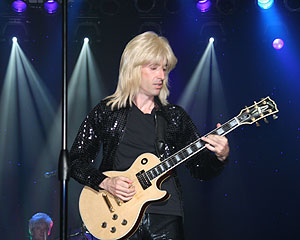 photo by Cassie Rietsch

"Enjoyed the show at the O.C. Pavilion. Amazing show David... Your band is musically Amazing....GREAT players. I enjoyed your singing and almost Hedwig like stage patter between songs. I was SHOCKED that you played lesser known Bowie classics like STAY and WIDTH OF A CIRCLE! That was GREAT! I overheard that you almost played DIAMOND DOGS. That would be great too. Paul Nelson your "Mick Ronson" was amazing not only with his note-for-note re-creations on guitar, but his singing - doing the Freddie Mercury part on UNDER PRESSURE was Jaw-Dropping! Your show was one of the best mixed performances I've ever witnessed. The sound was amazing. Whoever does your sound... my hat's off. I also appreciated you MESSING UP for a second and saying "Oops! Bootleg version" during the show. You guys were TOO PERFECT and to see a Mess-Up from the perspective of an envious fellow musician was appreciated! You ARE HUMAN! You and the band are GREAT! - Nuff said !!!
~ ALL OF YOU OUT THERE reading THIS*...YOU are doing yourself a dis-service if you ever miss DAVID BRIGHTON's SPACE ODDITY Show! The Perfect Show For An Evening, if you are either a casual or HARDCORE BOWIE-ITE!
- Raven White, professional musician

"I was amazed at how much David embodied Bowie's mannerisms and charisma. I absolutely loved the show; I had an amazing time and would love to see him again... I am recommending it to all my friends..."
- Andrea Stack

"I caught the act for the first time at Pala Casino. Unbelievably great! I grew up on Bowie (the first album I ever bought was Space Oddity). Thanks for bringing back all those treasured memories."
- Craig D. Woods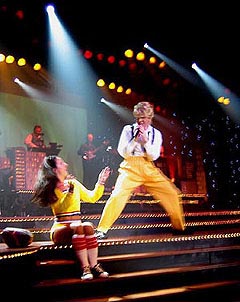 "I was extremely impressed with David Brighton's performance at The Tribute show in Myrtle Beach... David's act was amazing and his likeness to the real Bowie is uncanny… he sang, looked, and acted just like Bowie! He is certainly a talent… I look forward to seeing him perform again in the future. Amazing!"
- Gabby VanAlstine
"I saw the show at The Grove in Anaheim. I really enjoyed the medley performed by David Brighton... Opening with Rebel Rebel a la Bowie's Reality Tour, but shortened a bit to lead into many of Bowie's early 70's songs (e.g. Oh, You Pretty Things, Space Oddity, Changes, Life on Mars, etc.). He was wearing a typical costume that Bowie wore during the same genre. Then as the stage darkened, he left the stage to change, while we were just dazzled with the Station-to-Station preamble. And as befitting to the "Thin White Duke" era, Brighton changed hairstyles and costume to resemble the Bowie of the Golden Years with the slicked-back red hair and baggy suit pants with dress shoes, vest and all. During the final set, Brighton dressed like the "Serious Moonlight" Bowie and danced with the audience right below the stage, while singing songs like Let's Dance, China Girl, Under Pressure and Modern Love and having a blast. I thought the show was excellent and he really played to the audience well. I've been to eleven Bowie concerts and I totally enjoyed (Brighton's) set and his presentation! Brighton is entirely entertaining, and I'd pay twice my ticket price to see him again. I was treated to an imaginative presentation with Space Oddity."
- Craig DePaul
"The reason David Brighton is so good is because he is such a perfectionist, paying attention to every detail."
- Lady Stardust, BowieWonderWorld.com
"David Brighton is just brilliant. I saw him at The Tribute in Myrtle Beach in August, and was mesmerized by him. It was just like he was channeling David Bowie himself on stage. He is also very, very handsome."
- Laura-Ann Russello

photo by Cassie Rietsch
SPACE ODDITY REVISTED -
"This man is amazing... It was a night under the stars, loving the alien… David Brighton's SPACE ODDITY ripped it up for fans during the Cannery's Rocktober Fest…. We got Ziggy Stardust, The Thin White Duke, Pop Icon of '83, and even a little modern day Bowie. A collection of skilled musicians performed some of rock's greatest music... Brooke Naughton has re-joined the group and she sings with fierce attitude on songs such as "Knock On Wood." Guitarist "Switch's" Mick Ronson is living attitude as well... Two hours spent in Bowie heaven. Check out Brighton's site to see when he's coming to a city near you..."
- Heather M., Speed Of Life.com
"David Brighton does an incredible Bowie!!!"
- Don Butler, professional musician
"David Brighton's David Bowie show is the best tribute act that there is..."
- Jeff Toczynski, professional musician
"I so thought that you were David Bowie, I am a big fan and man... you rock. Love it, love it, love it."
- Rebecca Valadez
"I love your band... you've made me a David Bowie fan when I wasn't before. Thanks for your talent, I hope all the best for you David and all your band mates."
- Gina Goodson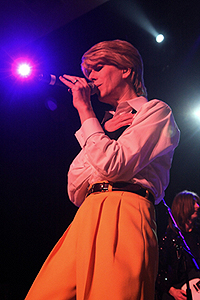 "Absolutely insane. I watched and listened... I kept saying 'that's crazy!' …all in all-triple whoa!"
- Lawmaker Murphey, BowieNet
"WOW!! WHATTA great show last night! David Brighton IS DAVID BOWIE incarnate!! Packed house as always and just an ear-to-ear grinner of a show!!! David and the Band are fabulous!!! Lots of tributeers in the audience last night too.... great people and great music. I highly recommend that EVERYONE see this show!!! I had a blast and I'm sure you will too! Check them out! ...a MUST SEE!!!! I forgot to mention that David is one of the busiest and finest Georges in the Beatle tribute biz. Any show he does is a great show, but the full Bowie tribute is really a dazzler!"
- Brian Penikas, Specialty Costume and Make-up designer
"I didn't think it possible, but there it is! If they ever decided to do a sequel to one of Bowie's movies, but needed a younger person, David Brighton could easily step in. Keep up the good work, Brighton!"
- Christina Larsson
"You were INCREDIBLE! I was left speechless and amazed by everything you did. (Your show) exceeded my already high expectations and I really really hope I get to see you all perform again! Thank you for everything! I love you all!"
- Emily
"Well done David and band! You guys were so awesome last night I was getting chills the whole time! Thank you for rocking my world with Width of a Circle and Hang On To Yourself. Paul is Mick Ronson reborn, I'm sure of it! I'm dying to see what you look like on a daily basis when you aren't busy being Bowie's twin."
- Cindy - The Ultimate Bowie Fan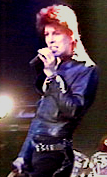 "OMG! ...he is so bloody good! He sounds JUST like David Bowie. I promise you guys, he's really fantastic. His hand gestures and facial expressions are so similar to Bowie's, It's unbelievable. You could honestly almost mistake the two."
- Glitter Rouge, BowieNet
"David Brighton is David Bowie and his show, Space Oddity, will make you a believer. The lights, flash, special effects and the killer band together with the classic songs like Ziggy Stardust, Young Americans and Fame will leave you absolutely stunned... this performer is amazing. David has traveled the world both as a member in various Beatle tribute bands and as David Bowie. David is a chameleon, and shows you the many "looks" of David Bowie from the glam rocker to the present. One of the best Tribute Artists and shows on the circuit today. If you ever get the chance to see this show, don't pass on it."
- Curtis Cowan, professional musician
"I was blessed to get to see David Brighton perform at The Tribute in Myrtle Beach. I was completely blown away. I've never gotten to see Bowie live, so for me, this was seeing Bowie live. Everything was just spectacular! David, you're amazing!"
- Brooke Nolley
"THANK YOU for bringing us dedicated bowie freaks an awesome David Bowie tribute. You look almost exactly like David!"
- Kalyn
"I think there should be David Brighton Net! Cool..."
- Ursula, BowieNet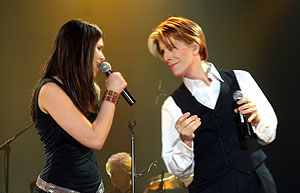 photo by Cassie Rietsch
"We opened for Space Oddity and were blown away by David Brighton's accuracy, vocal ability and stage presence. His band was also very tight and played extremely well. It was freaky how much he looks and sounds like the real David Bowie. I just couldn't imagine anyone doing it better. I strongly recommend Space Oddity to fans and clients."
- Joseph Hier (Lead singer of Electrical Storm, the U2 tribute)

"You've recreated the phenomenon! Unbelievable! You're so seasoned at the craft of being Bowie...TOO GOOD. And I really like your Mick Ronson (Paul Nelson). When he does any solo or riffs he smiles and enjoys what he's playing. And developing Tuesday more into the act is awesome! The audience (in the zone) experienced the star quality in you...The show was like an absence of time, began and ended in a moment. The two hours were like seconds. The audience always wanting more. Thanks for the great time, as you always deliver !"
- Mike O'Connor
"An absolutely great evening. All of your selections were good. My favorite tune was Ground Control To Major Tom. Great visuals... great venue. Believe it or not, I was never a big Bowie fan, so seeing your show made me realize how talented both you are and he was. Your gal singer was excellent along with the guitar player. A very, very, good show."
- Relpack
"Definitely surreal. David Brighton would have a pretty good following in Australia!"
– Pheebster, BowieNet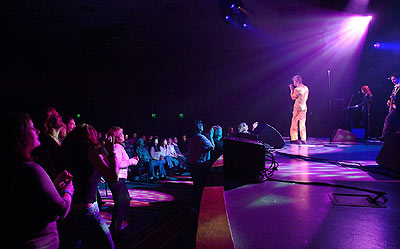 Photo by Dwight McCann
"YOU AND YOUR BAND ARE AWESOME, INCREDIBLE, AMAZING!!! So special. Thank you SO MUCH for giving us the gift of being entertained at such a high level. I have seen Bowie four times and (we) were just amazed by your performance and your humor - but mostly your talent. It was so FUN! And Paul/Mick (Ronson) is awesome - how incredibly hot he plays - and what a doll. He was great! Yara (on rhythm guitar) is absolutely lovely, she was fun to watch and so talented and looked gorgeous. The audience felt like a big family - that's not something you feel at most shows, but I think you attract really great people. When you are on stage your personality is right there with David Bowie's persona and it's you that shines through and endears you to your audience. Even this really macho guy next to me (he had a few drinks) was saying how cool you are. It shows in YOUR EYES and your smile... EXCELLENT SHOW. I would have paid double to see you."
- Barbara Legere
"Just saw your show. Very impressed and moved too. I saw Bowie live in '72 (Ziggy), '74 (Diamond Dogs), and later ('77?) as the Thin White Duke. You gave me goose bumps and brought back a flood of warm memories. I had never thought anyone could do that, but you did. Keep going, you are (all of the band) awesome. Love on ya!"
- Robert Lamarche
"I just had a wonderful time at your show... you had me out of my seat in no time dancing to your music. You have a wonderful voice and your band is awesome."
- Ramona King
"I saw Space Oddity at Pala Casino; and all I can say is WOW, definitely one of the BEST bands I have ever had the pleasure of seeing. AMAZING!"
- Lady T.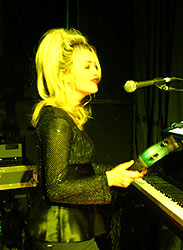 Tuesday Knight - onstage with Space Oddity
"You're perfect!"
- Jessica Katleen
It takes a lot to be a Bowie tribute act and you've pulled it off EXTREMELY well. Rock on!"
- Jackie Brown
"David Brighton is a genius! Anyone who can "do" Bowie, is pure genius! As an avid Bowie fan, your costumes and impressions are mind blowing! Thank you for doing this! I wonder what David thinks! Amazing! LOVE YOU ALL!!!!"
- Cinder
"Fine show...one of the best I've seen."
- Richie Ray, professional songwriter/musician
"I have been a huge fan of Bowie and especially love his works during 70's. To be honest with you, I had not expected so much from you. I just had thought you would have been another tribute band who play hit songs for casual fans - until I saw you live last Friday. I was blown away when you kicked off the show with "Station To Station" - and I realized that your costume was similar to the one of Bowie's "Station To Station" tour in 1976 (I have the bootleg called "Raw Moon Rehearsals - Vancouver 1976"). I immediately recognized that you are the one to whom all real Bowie fans pay attention - not just a casual fans pleaser. Not only David, but the band is also great - they cover such a wide range of Bowie's music - with high skill. The real fans in front of the stage never let you go until after the 2nd encore. That was the proof how great you are - I will keep going to your show at every opportunity. The satisfaction I got on that night was far greater than the Van Halen show which cost $170!"
- Nobu Suwaki
"David Brighton, David Bowies' most remarkable impersonator... didn't get any plastic surgery! He is a very convincing impersonator. His figure, the shape of his face, the way he moves, the voice. Of course you can still tell the difference but… you could certainly believe it is him."
- Yoko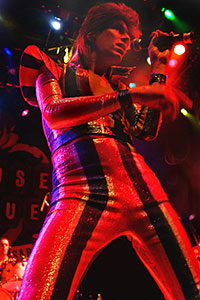 "Your show was too great for words... You and your band sounded so much like Bowie, you've done such a great job capturing his sound...you are as close to the real McCoy as anyone will ever possibly see... I was just amazed. I'll be at every show I can possibly make."
- Randy Watkins
"Wooow!! Fantastic show !!! If you love David Bowie you'll have to see this band - David Brighton (Mr. Space Oddity!) sooooooooo rocks!!! And Tuesday Knight is soooo kewl! If you go, Brighton is sooo much fun!"
- Kim Tang
"I loved the show last night. My friend and I had great seats, but we didn't sit in them very much because the music was infectious. We had wanted to tell you how uncanny the performance was, after the show... but we had a two hour drive in front of us, and I had to work this morning at 8am. Yikes. Thanks for a great show..."
- Natasha Von Lemke
"I love your band... you've made a David Bowie fan when I wasn't before. Thanks for your talent, I hope all the best for you David and all your bandmates."
- Gina Goodson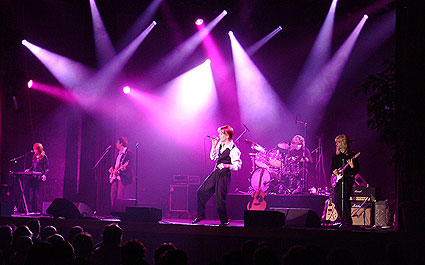 Photo by Dwight McCann


"I have been wanting to see Space Oddity for months and finally made the drive last night! Great job, spot on, brilliant! David, your mannerisms, singing style and look are pure Bowie! I had a great time and hope to see you all perform again soon!"
- Alisa

"Wow... You are really incredible as Bowie... I enjoyed every moment."
-Don Mogill, professional musician

"I had the privilege of seeing you in Santa Barbara... Absolutely ORGASMIC. You truly tickled my fancy. Thank you!"
- Lo Lo

"Whether it's art imitating life or life imitating art, YOU are a superb & amazingly gifted talent!!! The Bowie man must be proud/flattered..."
- Miss CRICKET

"David - You are a visual genius getting the myriad of Bowie looks down. Beautiful... excellent work."
- Michael Duddles, professional musician

"I really dug the band...the two gals on stage add a lot too...(really liked the keyboard player). I brought a bunch of folks down and will continue to spread the gospel of Space Oddity to my friends."
- Dan Rosman

"I have been a Bowie fan for most of my life but have never enjoyed seeing him live. I never thought I would be able to experience Bowie...but (Space Oddity) proved me wrong. And what's almost as good as the band is being surrounded by all those other people who are just as into it as I am! It's fantastic, and I really do count the days between (their) shows."
-Diva Luxotica, World Renowned Cyber Glamazon