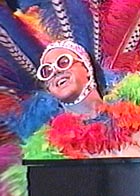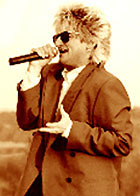 (Click on the photo
to see them LIVE!)
Joel Mason as Elton John
Rob Caudill as Rod Stewart
David Brighton as David Bowie
Joel Mason as Elton John:
Joel has been performing his tribute to Elton John around the world, entertaining audiences in a way that leaves them laughing, cheering, clapping and screaming....everything but forgetting. Mason's performance has been emphatically described as, "Holy Cow! That's Elton John!" His voice, his piano playing, flamboyant apparel, his stage antics and charisma... it's all ELTON! Platform shoes, outrageous glasses, flamboyant outfits, and timeless classics are only part of what you'll experience with Joel Mason's tribute to one of the world's all time legendary performers.


Rob Caudill as Rod Stewart:
People stop Rob in airports for autographs. They stare at him in restaurants. And when he struts on stage, women swoon and scream themselves hoarse. Why? Caudill is a dead-on Rod Stewart impersonator: With spiked hair and leopard-skin coat, the singer recreates Rod's show and his greatest hits with uncanny accuracy. ROB CAUDILL has "The Look" and the Uncanny Vocals that come naturally. The Costuming, Energy and Illusion (or is it an Illusion??) make this a show that will leave the crowd screaming for more!!

David Brighton as David Bowie:
David is credited as being the world's best David Bowie impersonator, with one of the most entertaining tribute acts to ever hit the stage. "David Brighton has the voice, moves and look to actually step in for David Bowie if he were unavailable and few would ever know." says Harry Maslin, the Producer of David Bowie's YOUNG AMERICANS and STATION TO STATION Albums. Brighton's credits include performing side by side with David Bowie himself in the TV commercials for Vittel Mineral Water and for Reality - Bowie's new CD. Brighton also just appeared as David Bowie on VH-1 television as well as in international pop star Shakira's new concert video...
---