Home
---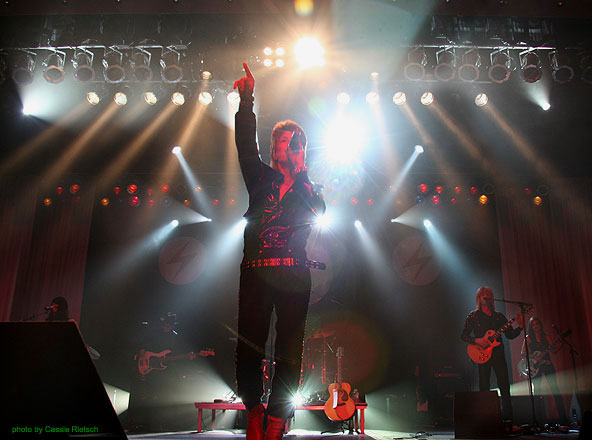 David Brighton's tribute to rock and roll's most electrifying superstar...
the Legendary David Bowie
David Brighton is credited as being the world's best David Bowie impersonator, with one of the most entertaining tribute acts ever to hit the stage.

"David Brighton has the voice, moves and look to actually step in for David Bowie if he were unavailable and few would ever know. Experiencing David Brighton's Tribute to David Bowie made for a truly remarkable evening…" says Harry Maslin, the Producer of David Bowie's YOUNG AMERICANS and STATION TO STATION Albums.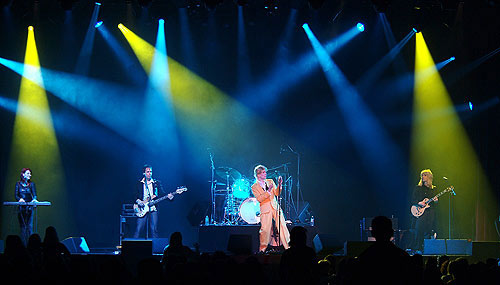 Photo by Dwight McCann
Brighton's credits include performing side by side with David Bowie himself in the TV commercials for Vittel Mineral Water and for Reality - Bowie's CD. The career spanning ads, in which Brighton portrays many of Bowie's most legendary personas, have been airing in the United States, Great Britain and throughout Europe. Brighton also appeared as David Bowie on VH-1 television as well as in international pop star Shakira's concert video...
Brighton has been performing live concerts and making radio and television appearances worldwide as a celebrity look-alike/sound-alike since 1994. He's performed on bills with some of the biggest acts the world has known - including: Sir Elton John, Stevie Wonder, Devo, Kenny Loggins, Three Dog Night, Little Richard and Barry Manilow. From the Superdome in New Orleans with bands like Chicago and KC & the Sunshine Band, to arenas, concert halls, theaters, casinos, cruises, festivals, fairs, conventions, private functions and corporate events… touring extensively throughout the United States, Canada, Europe, Japan, Hong Kong, the Bahamas, Barbados and Puerto Rico…
David has performed for Arnold Schwarzenegger and Maria Shriver… Brooke Shields, Dustin Hoffman, Martina McBride, Sylvester Stallone, Jay Leno, David Foster, Catherine Zeta Jones and Michael Douglas, Barbara Streisand, Quincy Jones, Lisa Marie Presley and Nicholas Cage... to name a few...
This unforgettable stage production is complete with flamboyant costume changes, elaborate staging, perfectly emulated vocal stylings and one of the best all-star backing bands in the business. All of the many faces David Bowie are present… from stadium-sized pop phenomenon, to space-age rock and roll alien Ziggy Stardust… and so is the excitement and electricity…

"David Brighton's charisma keeps the audience mesmerized and his vocals are flawless… His likeness to Bowie is eerie… The crowd actually gasped in amazement as he took the stage... you wondered if it wasn't really Bowie himself… Everyone was leaving their seats and kicking up their platform heels to the sounds of chart-topping hits like Fame, China Girl, Let's Dance and Modern Love… What (Brighton and band) give is nothing short of the opportunity to go back in time…" - The LA Review

Before entering the world of celebrity impersonation, David played lead guitar with a number of popular recording artists. His stint as a sideman began with a phone call from Kevin Dubrow from Quiet Riot. Dubrow tapped David to replace the legendary guitarist Randy Rhoads. In addition to his live work, David's versatility as a session player can be heard on numerous artists' albums, movie soundtracks and commercial jingles.
David also enjoyed the hysteria that went along with portraying George Harrison worldwide with a number of the world's top Beatle groups, Including: The Original Cast of Beatlemania, The Fab Four, Rain, 1964 (The Tribute), Beatlemania Live, Twist And Shout, Classical Mystery Tour, The Stars Of Beatlemania, and When We Were Fab.
Band Members: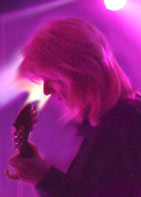 Paul Nelson: guitar/vocals
An accomplished guitarist, singer and songwriter, Paul Nelson has had his original songs featured on television and in films, including the Academy Award winning - The Usual Suspects, Stephen King's Apt Pupil, HBO and Showtime, CBS and ABC (NYPD, All My Children, Two Against Time, House, Dancing at the Harvest Moon). As a guitarist and vocalist he played for two years with surf legends Jan and Dean, and has performed with members of Jefferson Starship and The Beach Boys, as well as with members of many solo artist's bands, including: Glenn Frey, Don Henley, Beth Hart, Steve Vai, and Billy Idol. So what does a musician who can play like anyone from Jeff Beck to Stevie Ray Vaughn and can sing like Freddie Mercury do next? He portrays Mick Ronson with Space Oddity, that's what. As Bowie's charismatic, guitar riffing foil, Paul is able to fully utilize his impressive abilities as a guitarist and vocalist to recreate the peroxide blonde half of the legendary Bowie/Ronson partnership with stunning precision.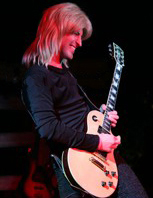 Switch: guitar/vocals
Switch is an award winning guitarist and recording artist from Winnipeg Canada. He studied at the Royal Conservatory of Music before traveling to Hollywood to enroll at the Guitar Institute of Technology. He graduated first class honors where the school dubbed him a "Success Story." A few artists that Switch has appeared with are; Nancy Sinatra, Gene Loves Jezebel, Bay City Rollers, House Of Lords, Steel House Lane, James Christian, Keith St John (Montrose), Bloody Lovelies (Josh Groban). With Space Oddity, Switch incorporates his broad background of music and guitar styles which include; Classical, Jazz, Fusion, Country, Pop and Blues. Because of his vast amount of experience, his playing has a real weight and maturity to it. When not touring with Space Oddity, Chris maintains a busy schedule in Los Angeles with Gene Loves Jezebel and his own band Clear.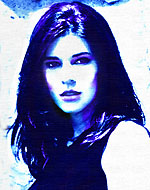 Brooke Naughton: Vocals, Keyboards, Percussion
Award winning vocalist, Brooke Naughton began performing in public at the tender age of three, and for just over twenty years she has continued to hone her craft in the spotlight. Brooke performed for Disney, she's appeared in at least one rock video and has sung on several records, including her own. In her teens, she began working with some of the music industry's top professionals as a songwriter and singer for groups that opened for Cheap Trick, Pat Benatar, Fleetwood Mac and others. Now a seasoned artist, Brooke continues to concentrate on her singing, playing, original material, and of course performing with her favorite band, Space Oddity.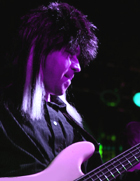 Trent Stroh: bass/background vocals
Bassist Trent Stroh is a highly respected multi instrumentalist/vocalist with many years of professional performing and recording experience. Trent has performed with a variety of popular rock and pop artists, including touring and recording with for six years with Eddie Money. Trent also toured with the classic accoustic/pop/rock supergroup America, Nancy (These Boots Are Made For Walking) Sinatra and pop hit makers, Air Supply. Trent has made numerous TV appearances on ABC, NBC, BBC and can be heard on many commercial jingles as well. Trent's meticulous attention to detail is his halmark. His uncanny ability to reproduce the unique bass lines in David Bowies music makes him the perfect choice for Space Oddity.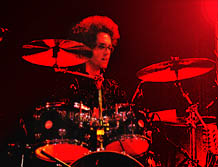 Ryan Brown: drums/percussion
Ryan Brown brings his signature versatility to Bowie's wide ranging catalog, from cross over Euro-funk dance hits to glitter rock anthems. A seasoned, in-demand live and session player in Los Angeles, Ryan can be heard on releases by Bo Bice, Clay Aiken, Hannah Montana, Circus Diablo, Nick Lachey, Jesse McCartney, Heather Graham, Suzie McNeil and Stephanie McIntosh, as well as many other recording artists. He also played on numerous Hans Zimmer's movie soundtracks - including Kung Fu Panda and The Dark Knight. Ryan has made many television and movie appearances as well.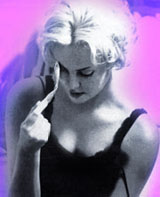 Tuesday Knight: background vocals/keyboards/percussion
Tuesday Knight left a recording contract with CBS records in 1989 to pursue acting with phenomenal success. She has appeared in more than a dozen films, starring opposite some of Hollywood's most prominent stars - including Robert DeNiro, Christopher Walken, Drew Barrymore, Kevin Bacon and Alicia Silverstone. Beginning with the lead in "A Nightmare on Elm Street IV," and recently co-starring with Billy Bob Thornton in "Daddy And Them," Tuesday has not only welcomed playing a variety of different roles but has also contributed songs to several of the film's soundtracks.
Tuesday's life was changed forever after seeing DAVID BRIGHTON'S TRIBUTE TO DAVID BOWIE perform at Hollywood's world famous House Of Blues. After the show, Brighton received word that Tuesday wanted to sing with him. "We really hit it off..." David said later. "We all fell in love with her and she's been working with us ever since..."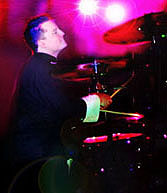 Jason Harrison Smith: drums/background vocals
Finding a drummer with the chops necessary to recapture the various styles of a body of work as eclectic and as demanding as David Bowie's was no small task. From Bowie's dance floor soul grooves and techno-pop mega-hits to his ground shaking rock and roll anthems, Jason Smith knocks them all out with equal precision... "He's quite possibly not of this Earth..." Brighton says of his illustrious drummer. "He can play like anyone...and make you believe you're hearing the original..." Smith's list of credits read like a who's who of the music industry... having worked with artists such as: Enrique Iglesias, Columbia recording artists - Five for Fighting, and Jethro Tull's Ian Anderson.
---
Press
Show
Video Clips
British Superstars Show